Prepare your business for global English communication.
What is The Travel Adapter?
The Travel Adapter offers a unique training solution for businesses that need their employees to be able to communicate effectively with clients and suppliers in English.
It provides the practical language skills that are needed in the global economy in an effective and cost-efficient way.
How it can help your business.
If you want to understand how The Travel Adapter workshops can help you to succeed in a global economy, read this article published in the prestiguous Language Magazine.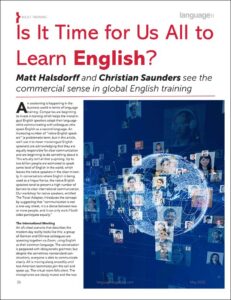 If you want to find out more about why we created The Travel Adapter and how it works, watch this interview with co-author Matt Halsdorff and top language podcaster Luke Thompson.
We have helped some of the largest companies in the world improve their English communication, and their bottom line, by harnessing the existing language skills of their staff.
Book us for a workshop and transform your international business capabilities today.
Download The Travel Adapter.
Transform your communication with these 23 simple lessons.