Canguro is proud to donate 100% of its proceeds to Pencils of Promise to build schools in Laos.
Community members impacted
Our first school in Laos opens September 2022
The old structure of the Houay Loa Primary School consisted of two classrooms comprised of concrete flooring, wooden walls, and tin roofing.
The doors and walls were broken and the roof was leaking. Due to limited space, the school only held classes for grade one to grade four by having two grades sharing one classroom.
After grade four, the students had to walk to the nearest school for their fifth-grade classes, which was four kilometres away.
Those conditions hindered learning, posing a hazard to student safety and engagement.
Thanks to Pencils of Promise and the Canguro community, the Houay Loa community now has a new three-classroom structure, toilets, and hygiene facilities, which will provide a high-quality learning environment where every child can reach their unique potential.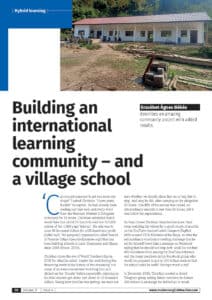 Read more about our school building projects in this article published in Modern English Teacher magazine, written by Erzsébet Ágnes Békés.
Help us make a difference
All proceeds from the Canguro Academy are used to build schools, but you can also donate directly below. 100% of your online donation directly funds school-building projects.